Crawl of Thrones
Posted by Talbot Sutter on Thursday, September 8th, 2022 at 5:02pm.
Calling all King of Throne fans...
You're gonna wanna get in on the 2nd Annual Crawl of Thrones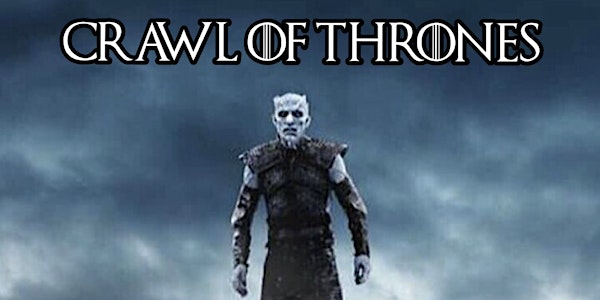 Date and time
Sat, Sep 10, 2022, 7:00 PM –
Sun, Sep 11, 2022, 1:00 AM EDT
Location
335 Clematis Street, West Palm Beach, FL 33401
* Check in is at 7PM at Myers Lounge
Winter is coming to West Palm Beach for the 2nd Annual and much anticipated GOT Bar Crawl

About this event
2nd Annual CRAWL OF THRONES | DOWNTOWN WEST PALM BEACH
In the spirit of the new House of Dragons shown we are brining the Game of Thrones themed Pub Crawl back to West Palm Beach. Come explore some of the downtown venues as we transform it into Westeros. Game of Thrones fans, this is the event you don't want to miss, join us in our pursuit of the Iron Throne. Dress as your favorite character, join a house and lead yourself or group of friends into victory for the greatest battle for the 6 Kingdoms you know so well.
Crawl of Thrones
Includes FREE Entry & 1 FREE Game of Thrones themed Drink at Each of the 6 Different Venues and culminating with a After Party at Camelot
Every venue will have a Noble House so whether you are with friends or solo it's a great way to make new ones!!
Bring honor to the Pub Crawl by assembling the best team. Get your friends together to take over a whole House!!
Tickets Include:
• No cover at participating locations.
• Themed drinks from all over the 6 Kingdoms
• Drink specials for registered crawlers
• Countless lords from noble houses, knights, wildlings, white walkers…
• Prizes awarded for the best costumes.
• Prizes for biggest team/House
• Commemorative Map of Westeros to ensure bar entry and drink specials.
• Entry into Contest to claim the Iron Throne (Prizes) Walking Photographer.
• We will have designated Kingdoms as your starting point/Check-In along with make up artists to get you ready as The End Begins.
6 KINGDOMS and Times (1 FREE drink at each venue)
1. The North .... MYERS LOUNGE
2. The Valle .... 335
3. The Reach ... ROXY'S
4. Stormlands ... BANKO CANTINA
5. Westerland ... BODEGA
6. Crownlands ...CAMELOT
* Iron Throne Winner will be announced at Camelot
* Announcing raffle winner throughout the Kingdoms
* Trivia Questions for FREE drink tickets
Please Note: Some aspects of this crawl like participating bars and specials are subject to change.
Must be 21+ to participate. No Small folk (minors). Don't drink and drive, arrange a carriage, designated driver, take public transportation or call a cab/uber.
Drinking alcohol is NOT required and in no way changes the outcome of any of the contests associate with this crawl.
Dire Wolves (pets) and Small Folk (children) are NOT allowed in the Kingdoms (bars).
Limited Tickets Available!
Leave a Comment